All dolls are fully repainted, sewn and embellished by me. I have restyled all the hair on my dolls unless otherwise stated. On a rare occasion, I will reroot the doll. I have carefully and meticulously drafted each and every pattern I use for my dolls to ensure a perfect fit. It is important that you the collector have a truly original piece and thus, I try to keep my fabrics from being over used as much as possible. This offers you a vast array of designs and dolls to choose from.
I welcome any and all questions you may have! Please contact me at
I'd love to hear from you!
*I am sorry, but time does not allow me to take custom orders*
*available dolls are ready for immediate shipment

*available*
$800
Formerly a Steffi sculpt
I am sorry, I do not remember who she was before I started work on her. I rerooted her and she is a full facial repaint. I restyled her hair and added beads and that wonderful headpiece. Those are a lot of fun for me to make. :) I love Steffi, but don't work with her too often. She's not as plentiful as she used to be. Perhaps I need to look into making more from Steffies!? Hmm... tell me what you think!
Her bedlah, which is her top and hip scarf, are made from Indian sari fabric. I have a contact in India and she's a wonderful woman. She is a seamstress and shares the wealth with me! :)
She has a double layer skirt and her entire costume is dripping with all sorts of Japanese seed beads, fire polished stones, AB crystals and teeny tiny sequins. I am pretty hard on myself when it comes to keeping the items I use to scale with the dolls themselves. That can really throw a doll completely off.
Lastly, I sculpted her slippers and encrusted them with coordinating goodies!
Tah-Dah! She's done!

$800
formerly Trixie Speed Racer
This girl has a full facial repaint. That means that all of her factory paint has been gently removed and I have repainted her face entirely. I never have any set idea in mind when I paint or create a doll. It's fun for me see them come to life as I am painting them.
Her costume is created using the most gorgeous lace from Bali that was imported expressly for Gilly Gals! I have embellished it with sequins and rhinestones of all sorts! The tiniest of barrel beads hang from her hip and Turkish coin charms hang from her top. It is encrusted with Swarovski crystals, Japanese seed beads and various other fire polished / AB finished stones and sequins.
As with all of my dolls, I have created her jewelry by hand and also her slippers were hand fashioned!
This doll took forever for me to complete! There are over 90 hours of work on her! Lots of pokes in my fingers from needles, crossed eyes from focusing on the tiny beads and probably thousands of those beads are in the carpeting on my floor under my desk still! LOL! They're so small the vaccuumsweeper can not pick them up! LOL!
She is elegant, and rich and enters the room making a statement with a strong, yet quiet confidence.
I hope you enjoy her!

All dolls below are no longer available.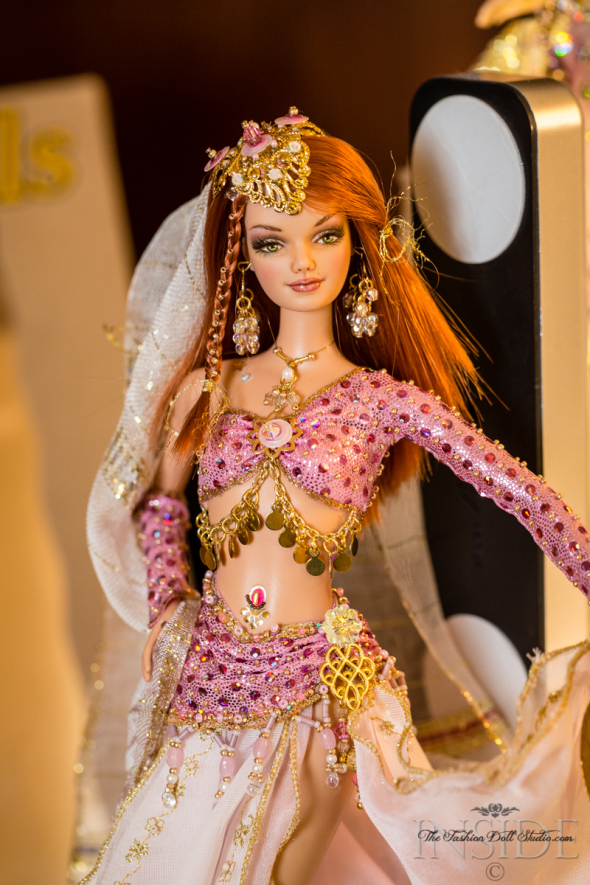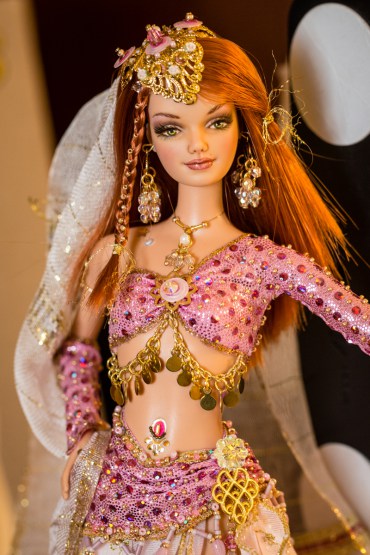 The two above pictures are courtesy of ... InsideTheFashionDollStudio.com
Thank you Rebecca, for showcasing my work!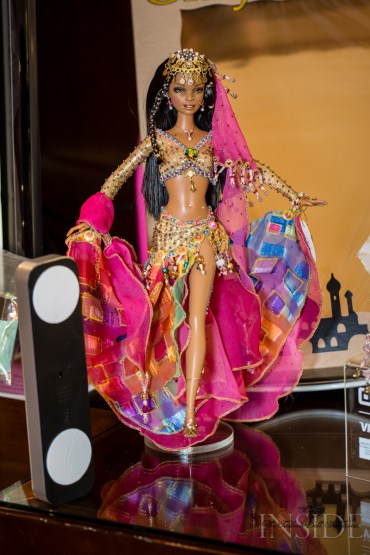 The picture above is courtesy of ... InsideTheFashionDollStudio.com
Thank you Rebecca, for showcasing my work!